Are you Looking for Arizona State Housing for your Student?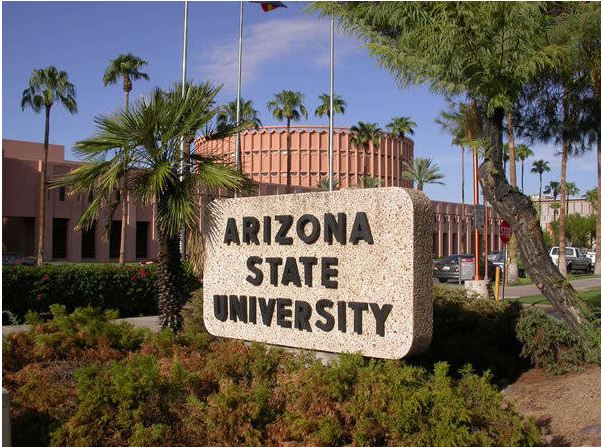 Are you Looking for Arizona State Housing for your Student? Have you thought about buying a house for your son or daughter to live in while attending Arizona State University (ASU)? This can save you from paying for campus student housing or off-campus rent in addition to campus dining rates. How would you like to pay next to almost nothing for housing and food expense over the life of your student's college attendance?   Buying a home in Tempe gives you ASU housing that you own while saving money on student housing and building equity while your student attends college.
Facts About Tempe
Tempe's estimated population is almost 170,000 strong and covers over 40.2 square miles! This great town is the home of Arizona State University (ASU) and is located In Maricopa County, east of the city of Phoenix, South of Scottsdale, West of Mesa and North of Chandler and Gilbert.  Tempe is a college town with a lot of energy and culture. In Tempe, you will find one of the many Cactus League stadiums, Papago Park, known for distinctive geological formations. Tempe is also the home to the Desert Botanical Garden, the Phoenix Zoo, picnic areas, several lakes, hiking trails and bicycle paths. There are also plenty of festivals and a river large enough for boating now called Tempe Town Lake.  There is always something to do in Tempe when your student is not studying!
This is one of the top Universities in the country with an enrollment of over 50,000 students.  This makes this home great for resale when your student graduates and you are ready to sell your home. While Tempe is home to ASU, many people appreciate the many amenities of this highly rated city and therefore demand for homes in Tempe is always high for students, faculty and discerning home buyers.
Types of Homes in Tempe
Tempe is a combination of single-family homes, condos, and townhomes.  Many were built with the Southwestern look we associate with the Spanish style of arches, stucco, and tiled roofs.  Prices in Tempe range from under $100,000 for a condo to multi mullion properties in the southern part of Tempe.  Today Tempe is landlocked with few new home building opportunities other than the occasional in-fill project.  This keeps homes in Tempe, especially those near ASU, likely to continue appreciating in value month over month.
The Real estate market in Tempe, Arizona is very strong thanks to ASU housing needs along with many local and national business based in this town.  With currently only 2 months of inventory available as of November 2018. This makes Tempe a seller's market for those looking to sell and a great opportunity for those looking to buy a home. We expect rental costs for on or off-campus accommodations for ASU student housing to continue to increase. To offset this increase, many savvy parents are purchasing homes for their student to live in for their 4 or 5 years of college.
4 Benefits of Purchasing a Home for Your ASU Student
1.  You have guaranteed student housing for the duration of classes at ASU without worrying about rent increases and multiple moves.  You won't have to worry about the landlord raising the rent or selling the home during the school year. No need to move between houses when school gets out or if the landlord decides to sell the property.
2.  When you own a property you control it.   As the owner, you control who lives in the house and who comes and goes.  In a dorm type setting or house rental, you may not know the neighbors or who your student may be exposed to on a daily basis.  
3. Students can rent out the additional bedrooms in the house to offset the mortgage and utility expense on the property and once again choose who they associate with each day.  
4.  At the end of graduation, the student can continue to live in the home or the parents can sell the home, realize a nice profit on an investment that has provided great payback and saved you money each year by not having to pay for student housing,  meal plans and parking.
Help Your Student Build A Great Credit History
There is another potential benefit with this home purchase. It is a great way to help you college-age son or daughter build their credit by having them become a co-borrower on the purchase of a home.  Many loan programs today allow students and a parent or other adult with established credit (this could be a  grandparent, godparent, aunts, and uncles or even a family friend)  purchase a home with the student for as little as 3.5% down on an FHA loan.  The adult purchaser is a none-occupant buyer.  This may be a great option if the parents do not qualify for a home purchase at this time but other friends or family member do qualify and are willing to help the student while making a great investment as well!
What a great way to help your student meet housing needs and establish a strong credit history as mortgage payments are made on time every month.  This is a good way to instill accountability in the student/homeowner as well as build a great credit profile.
How Much Can I Save by Buying Versus Renting
Parents often ask me how much they can really save by buying a student home rather than renting on campus or off campus for 4 -5  years.  This is simple.  Look at what you will spend for housing, campus meals & parking over 4 – 5 years (and we know today that many students are on the 5-year plan (or more) to complete their degree).  Compare this to a monthly mortgage offset by 2 rooms rented at $500 to $600 per month. You do the math!  Take for example an estimate of almost $10,000 for student housing on campus for 9 months.  Add to that the meal plan expense for eating most meals on campus which can add another $5000.   And will your son or daughter really eat on campus after you buy the meal plan?  Maybe, maybe not.  Are they going out to eat with their friends anyway?  Again, this is for only 9 months of the year. Don't forget to factor in those miscellaneous school fees like parking. In addition, the Phoenix Business Journal (Feb. 25th addition) reports that Phoenix area rentals are increasing faster than the national average and in 2017 increased at a 5.6% rate. Don't forget about the appreciation over 4 – 5 years when that graduation finally arrives!
In the spring students typically vacate housing on campus. Now, what do you do with all their belongings if students return home for the summer?  You can either find a local place to store (and pay) for storage or you can pay to ship their belongings home for the summer and back again!  We know many students have jobs/internships and need to find alternative living accommodations to stay in the area after school is out for the summer. Those months add substantially to your true housing expenses.
Michal Orr, ASU – Home Appreciation
Michael Orr, who serves as director of ASU's Center for Real Estate Theory and Practice was quoted in the July 8, 2015, Phoenix Business Journal saying he doesn't see much supply relief in the near future for the entry-level homes because many new home permits issued are for move-up homes.  This is still true in 2018 as well.   Single-family home appreciation sales rose  7% – 8 % in 2017.    Just projecting the current home sales trends, the Real Estate Industry expects this trend to continue. As you can see, homes in Tempe are appreciating nicely.
When students live in Campus housing they may find the dorms noisy and not conducive to studying.  And let's face it, as a parent, we expect our students to study hard and make the most of the money we are spending on college tuition and books.  In their own home, they will control their environment, control who comes and goes and when and if the party gets started!  As a parent, we want to shelter our young adults from the dangers of life away from the protected environment in which we raised them. We used to control when they came and went, who was in the house and the noise level.  By purchasing a home for your college-bound student you will still able to control many of the environmental aspects of safety and health of your student.
Think of the hundreds of dollars you will save by not paying for on-campus parking.  Think of the time your student will save by avoiding the parking, and walking to and from classes across campus from the parking lots. Throughout Tempe, public transportation is excellent whether one is using buses or the light rail system.
In closing, please take a look at the attached link to houses available in the Tempe area and the affordability of many, click on this link to affordable Homes in Tempe to see what I mean. If this looks like an option you would consider, give me a call at 602.770.0643 or send me a note through this link. I can go over everything in detail and answer any question you may have.
If you are interested in buying, selling or investing in property in the Phoenix east valley, including Tempe
Please follow and like us:
Summary
Article Name
Are you Looking for Arizona State Housing for your Student?
Description
Buying a home in Tempe for your student attending ASU. What are the pros and cons of buying a home for them to live in rather than renting or living on campus?
Author
Shirley Coomer at Keller Williams Realty
Publisher Name
Shirley Coomer at Mountain Park Ranch Real Estate
Publisher Logo