When homeowners are ready to sell their house, how their house is presented for sale can make a big difference in how fast it sells and at what price.  When selling your home quickly, sellers need to prepare their home to appeal to as many buyers as possible.  The home you live in is not the house you put on the market. In this article you will find many ideas to make your home appealing to buyers, simple ideas to update and show the home in the best light.  Most buyers today start their home search on the internet, hence high-quality photos of decluttered rooms is huge to buyers.
Okay, so Realtors always tell sellers to declutter their home before the home goes on the market.  What does a decluttered home look like?  Do you really need to depersonalize your home? Do you really need to declutter all the rooms?  Let's take a look.
Kitchen
Start with your kitchen and look in all cupboards and drawers.  You are moving, so go through each cabinet and drawer and remove duplicate items you don't use.  Have boxes ready labeled  KEEP, DONATE, GIVE AWAY.  It is important that buyers see there is plenty of room for storage.
Also,  if your cupboards are crammed full, they will likely think they won't have enough storage either.  If you have a pantry, be sure shelves are neat and organized.  Remove everything off the counters other than a coffee pot and a bowl of fruit. You probably use your coffee maker daily, but not the large mixer stand or crock pot. Store away all counter appliances. 
You want buyers to take in the generous counter space, and if every inch of the counter is full of items, buyers will feel the kitchen is not big enough.
Look at Your Kitchen Through The Eyes of a Buyer
Look at your kitchen, for instance. Do you have a refrigerator full of magnets, pictures and to do lists?  Also, remove all magnets and school projects from the front and sides of your refrigerator.  Additionally, do you have cereal boxes on top of the refrigerator?  Find a place for them out of the site.
Remove everything from the counters other than maybe your butcher block of knives (if they look nice) and coffee pot.  You want the countertops to look roomy.  The more appliances you have on top of the counters the more you send the message that this house doesn't have enough storage.
Dining Room
Be sure your dining room table is cleared off, other than a flower arrangement.  Also, make sure your dining room looks like a dining room.  Buyers get confused when a dining room looks like an office or playroom.
Clear off any sideboards, consider removing extra chairs so the room in inviting and appear spacious.  Also, be sure all light bulbs work and lights are on when your house is shown to prospective buyers.
Master Bedroom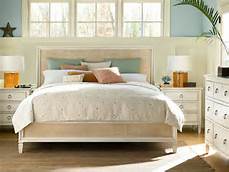 Roomy Master Bedroom – Buyers walk into a Master suite and expect that extra space will be a sitting area, not a home office stacked with boxes, books, magazines, and papers.    There are really two parts to decluttering.
One is having the right furniture and the other is removing the "stuff".  Also, boxes, books, pictures, piles of the magazines that you are going to get so someday do not belong in a bedroom when you put your house on the market.  Since you are moving, start to declutter and decide what to give away and what to keep!
Don't Confuse Buyers
Buyers get confused by odd pieces of furniture in a room.  For example, in the master bedroom, you expect a  bed, a dresser or two and night stands with lamps.  If you have a sitting area you expect a chair or two, maybe a lamp and a small table.  Remove extra cabinets and chairs.
Living Room
Start your decluttering process by looking at your furniture.  Is the furniture in good condition? Do you need to remove it or perhaps get slipcovers? Also, remember, less is more when it comes to furniture in a room.  Does that piece belong in this room?
Does it add to the room? Minimize the furniture in the room and move furniture out from the wall. Clear off the end tables and coffee tables.  One magazine tastefully placed on a coffee table is fine or a plant is fine, for instance. If you have shelves under the end tables or coffee tables clear these out or place a couple of books there but remove the stack of papers.
Closets
Take a look at all the closets in the house, your buyers will!  If you have a hall or entry closet, minimize the jackets and boxes stored there.
Because buyers will open all closets and drawers, all need to be decluttered!  Again, you are moving, so start packing up now!  Look at your master closet.  Show the buyers there is plenty of room for clothes to hang and room to store items on the shelves.  Line shoes up neatly.
Look in your linen closet, again pack up items you don't immediately, especially seasonal items you won't use for a while.  Additionally, be sure towels are neatly folded and stacked.  Any extra toiletries should be neatly organized.
Kids Rooms
We all know kids have their toys and favorite things.  There are probably many items they have outgrown that can be stored away or donated.  Start early to declutter the kids' room and organize bins or shelves. Again, if the room looks too small for your kids, they are probably too small for a buyer's too!
Garage
The garage is a key area for buyers to see how much space is available for cars and storage.  Declutter and eliminate everything that you don't use or immediate need.  Also, if you have storage cabinets in your garage be sure they are organized.
Often sellers move boxes, furniture, and other items to the garage to clear out the house.  Unfortunately now the garage looks cluttered and it sends the same message, there is not enough room in this house!  Consider renting a storage unit for a few months.
You can declutter the house, get rid of items you no longer need or want.  Take the time to donate usable but unnecessary items.
The Money Is In The Details in Selling Your Home Quickly
Buyers need to picture themselves in the house they are walking through. They often get distracted by things out of the ordinary, such as clutter, furniture in a none traditional location in the house (ie a dining room used as a den or a dining room used as a bedroom).
If you are thinking of selling your house, talk to your realtor and take a stroll through a model home.
Model homes are furnished with modern furniture, appropriate window treatments with drapes and windows wide open to allow light to enter. Walls have attractive artwork that compliments the home, it doesn't distract from the mood.  Also, stacks of books, papers, boxes, and extra furniture distract buyers.
Size Does Matter!
Also, these things will also make a home look small and send a loud message to buyers that this house lacks enough store.  Buyers may think that if the current owner has run out of space, they will soon find themselves in that same situation.
Remember, you are moving!  Why not start packing up things you do not need every day. By packing items up early and moving excess furniture and other items to a storage unit, buyers can see the true potential of your house, they can picture themselves living in your house.  They can imagine their friends and family enjoying special times together.
You may ask, how do you sell a home to a family member?  Selling your home without an experienced real estate agent can be risky.  Oh, it sounds easy.  You agree on a price and a date to transfer ownership, then complete the sale, right?  While there are several factors to consider, you can absolutely do this successfully.  Just be sure to consider the following potential issues.
Price Your Home Correctly If Selling Your Home Quickly Is Your Goal
A seller normally sets a price, the buyer then makes an offer and if necessary, buyers and sellers negotiate to arrive at an agreeable sales price.  The challenge you may run into is finding a price agreeable to the buyer and seller. 
Typically the real estate agent will look for comparable sales in your area and comparable homes actively for sale.  The real estate professional will compare the properties and adjust based on the condition of a house and location.
  A home of similar size near you may be worth much more due to updates to the property.  It could be worth much less because you have updated your house and they haven't.  You and the seller may not agree on the value of updates (or the lack of them).
Get an Appraisal on the Property
Consider paying an appraiser to do a professional appraisal on your house.  Also, appraisers are experts in pricing homes, taking into account the current market value.
The appraiser is an independent third party to no attachment to the sale. 
Additionally, appraisers appraise dozens of houses each month so they will add value for a 3 car garage, a swimming pool, golf course lot or other special feature of the home.
Determine what paperwork you will use
Decide what documentation you will use to state the agreed upon sales price, closing date, and what, if any other furniture or appliances also will be part of the sale. You will want to have the legal sellers and legal buyers to sign the documents.
Title companies in Arizona will often provide an information packer for a For Sale By Owner to use in this type of transaction.
Should the Buyer Get A Loan?
A buyer can get a loan to purchase a home not being sold through a real estate agent.  The lender will want a copy of the purchase contract and will ask the buyer for all the same information as they would for a real estate agent purchase.  
The buyer should ask the lender for a letter stating the type of loan they are obtaining.  Also, a lender can also provide a pre-qualification letter for the seller.  A wise seller will want proof the buyer can complete the purchase.  Additionally, even if the buyer is family, it is prudent to confirm the buyer can obtain a loan and the lender can fund the sale by the sale date agreed to buy the buyer and seller.
Don't forget to turn on or off your utilities. Get the complete list of utilities for the Phoenix area.
Should A Seller Finance the Relative's Home Purchase?
Sellers can certainly finance the loan for the buyer.  Again, this needs to be documented.  The buyer and seller need to agree on the interest rate and payment due date.  Also, a wise seller should also document the payment of late fees.  Sellers should also document what happens if the buyer does not make the payments.  In Arizona, standard public loans state a bank can foreclose on a property if no payment is made for 6 months.
At 90 days of no payment,  in Arizona, the banks issue a "notice of default".  Additionally, this puts the homeowner on notice that they are 90 days late and in 90 more days, they will foreclose on the property.  The borrowers can bring the loan current day before the end of the 90 days.
Be Ready For Tough Decisions
Sellers should be sure they are willing to make difficult decisions should a family member default on the loan.  The terms and conditions you put in the purchase contract will ensure if a buyer (family member) doesn't honor their loan commitment, the seller has appropriate legal recourse.
Should the Buyer get a Home Inspection?'
Buyers of a relative's property should definitely get a home inspection!  Often on the home inspection, problems are identified that the seller was not aware of.  For instance, most of us do not go on our roofs in Arizona and inspect the tile and mortar caps.   Also, buyers of a relative's home will probably not look under every sink, check for water drainage in all sinks and tubs or laundry rooms.  A home inspector is a neutral third party who looks at the main aspects of the home during a standard home inspection
Arizona Home Inspectors Must be State Licenced
In Arizona, home inspectors are required to be licensed by the state.  Home inspectors follow w set process to inspect a house, attic, roof, sprinkler and other systems.  The buyer can review the report and decide if they want to ask the seller to make repairs.  At a minimum, the buyer should be aware of any issues in the house and can proceed accordingly.
Should a Buyer Get A Termite Inspection?
In Arizona, we have a saying:  Homes either have had termite or will have termites.  Also, termites in the Phoenix area are typically subterranean termites.  They move slowly and live in the ground.  Often the first indicator of termites is the termite tube on the stem wall of the house.  Additionally, termites build "tubes" from the ground into the house.  Termites need to have moisture hence the tubes they build.  Any home buyer in the Phoenix Metro area should have a termite inspection.  If termites are detected, the house needs to be treated for termites.
Do You Need A Home Warranty?
Buyers should consider asking the seller to pay for a home warranty.  This is a warranty that covers the first year in the home.  Should appliances, the water heater, AC unit, or pool have repairs, the home warranty can offset the expense of a major repair for the homeowner.  Most real estate agent involved in a purchase transaction will request a home warranty paid for by the seller for the home buyer. Often offering a home warranty up front is a nice gesture for Sellers.
Strained Family Relationships
Could a family sale strain family relations/?  What if a buyer doesn't get a home inspection, and subsequently finds a problem with the house?  Could sparks fly between the seller and buyer/?  Will the buyer think the seller was not honest with all the information on the house?
Will the seller have feelings hurt because they may not have been aware of a problem?  Families need to decide if they can withstand any housing issues that may surface from a family transaction. Buyers and seller need to consider the family dynamics that could plague them for years.
What If the Home Doesn't Appraise at Contract Price
What if the buyer is getting a traditional loan and the property doesn't meet the appraised price?  As with any home purchase, the seller will need to agree to drop the price. Or, the buyer can pay a bit more for the house and bring in more down payment. OR the buyer can walk away from the transaction. What happens to family dynamics when this happens? Again you don't have a buyer and seller willing to be flexible in a transaction who knows what long term impact there will be on family relationships.
Use  a Title Company
You will definitely want to use a title company, which is a neutral third party to hold the earnest money, receive the buyer's loan and pay off taxes or loans accordingly to the particular situation.  The title company will also run a title report to ensure there are no liens on the property.  Maybe your relative didn't intentionally mislead you regarding what they owe on the property, but buyers should protect themselves against any risky situation.
Does The Seller Need to Provide Seller Disclosures in Arizona?
Sellers usually complete a seller's disclosure statement.  When transactions use real estate agents, they require the seller to complete a Seller Property Disclosure Statement (SPDS).  Today, this is an eight-page document. A real estate agent will require a buyer to sign the document as proof of receipt.
Buyers who sign the document are not agreeing or disagreeing with the document, just providing proof they were given the document.
What is a Lead-Based Paint Disclosure?
Arizona law requires a buyer to be notified that properties built before 1978 may contain lead-based paint.  Transactions involving a real estate agent require the buyer, buyer's agent, the seller, and the seller's agent to sign this document.
This ensures buyers are aware of the potential lead-based paint, and the buyers are giving written information on lead-based paint.
Sellers need to consider several potential pitfalls if they are planning to sell their property to relatives.  With the right safeguards in place, this can be accomplished.  Is the sale of someone's biggest financial asset best protected as a for sale by owner transaction?  This transaction could also have legal ramifications if not completed correctly.
A better option may be to list your home for sale with a real estate agent, and if your relative provides the best contract offer, they get the house.  Do you want the most money for your home?  Sellers typically get the most money with the widest exposure to the property.  Listing a  property in the Multiple Listing Service (MLS) gives you this advantage.
? Disclosures
In Arizona, sellers are required to disclose any "material" facts about a property. A material fact is considered to be information that could impact a buyer's decision to buy a property or affect the amount they would offer for the property.  The Arizona Association of Realtors has a Residential Seller Disclosure Advisory for sellers to complete.  This document is completed by the seller for the benefit of the buyer.  It is important for sellers to disclose what they know about the property.  The standard state of Arizona form walks the seller through 5 sections which cover the property and additional space for the seller to add any other pertinent information.
Building and Safety Information
This section addresses structural issues with the property, This section also addresses termites, plumbing, electrical and pool aspects of the property.  While buyers who have lived in a property for many years may not recall every visit by a plumber or electrician, they should recall anything that was a major issue.  Sellers are expected to provide routine maintenance of their property,  Here buyers are looking for anything unusual or identifying issues to be concerned with.
Utilities
Environmental Information
Here sellers must disclose anything they know about the property regarding the environment.  This includes landfills, settling soil (which we do have in the outlying Phoenix areas) and
We often see seller declining to provide a Seller Property Disclosure Statement, citing the fact that they have never lived in the home.  The state of Arizona in this document is not asking if someone lived in a property.  They are asking what the seller knows about the property. 
A seller who rented a house out for 5 years would be aware of repair items as they would have paid for those repairs.  Again, not living in a property does not mean the owner isn't aware of issues or repairs to the property.  We also see this often with investor properties.
The investor bought a property, went in and repaired or updated the property.  Again, they may not have lived in the house, but there do know what has been updated.  They also know if they encountered such issues as mold, electrical or plumbing issues.
Again, the question is not whether the owner lived in the property.  The state of Arizona wants buyers to have the full benefit of what the seller knows about the property.  This information could affect the amount of money a buyer is willing to pay for the property.  This information could also affect whether the buyer wants to cancel the contract and not proceed with the sale.
Does a Buyer have Recourse if A Seller Lies?
Sellers who fail to disclose could find themselves with legal action from a buyer.  If a buyer finds an issue that the seller should have disclosed, there are legal remedies open to them.  It isn't unusual for neighbors to be aware of house issues, and they could well share this information with a buyer.
Lead-Based Paint Disclosure
This is a federal law requiring sellers to disclosure to buyers that the home was built prior to 1978 and could contain lead-based paint.  It is then up the buyer to do any lead-based testing they feel they want to do.  The seller is only required to disclose there "may" be lead-based paint in the home.
What is an Important or Material Fact?
In Arizona, sellers are required to disclose important or material issues.  These are those that have an impact on the value of the property, the buyer's decision to purchase, or use of the property".  We don't what know is "material" to a buyer. Therefore, sellers are asked to disclose anything that could affect the buyer's decision to move ahead with the sale.  Typically, a scratch the wall or a crack in a tile is not "material" facts on the house condition.  The facts a seller would want to disclose would likely include things a buyer can't see, such as prior repairs or damage, ie fire damage, roof damage and repair from a storm, a prior slab leak, etc.
Some Things Not Requiring Disclosure
A sex offender living in the area – Many sellers may not know if there is an offender in the area.  However, buyers can look up this information by going to the Arizona Department of Safety Sex Offender Database
Sellers are not required to disclose a death on the property. This would include a natural death, murder or suicide.  However, in many older homes years ago it was typical for the homeowner to die at home. Therefore some homes on the east coast of midwest could have had multiple deaths due to natural causes.
A seller is not required to disclose whether a felony was committed on the property
A buyer will not typically see any disclosures on whether the house was owned by someone with AIDS, HIV or any other disease that could be transmitted by occupancy in a property.
In any case, if a seller is asked a question directly, they must answer or state they will not answer.  They just can not lie to the buyer.  If the seller truly does not know an answer of "I don't know" is acceptable.  Remember, the seller is to disclose what they know.  They are not expected to know every bit of history about the house.  But, the seller is expected to answer truthfully.
I am a FSBO (For Sale By Owner)
Arizona law does not make a distinction between sellers selling their own property or those using a real estate agent.  All sellers must disclose what they know about a property without a buyer having to ask.  A homeowner selling their own home is not exempt from disclosure.  However, sellers in a private sale are often unaware of the legal requirements.
Sellers are expected to provide full disclosure of any information about their property that would affect a buyer's decision to buy the property.  They are also required to disclose anything that could affect the price a buyer is willing to pay for the property.
Buyers should get a home inspection. In Arizona, buyers have 10 days to complete any inspections that are important to them.  This is typically a home inspection, termite inspection, pool inspection, and roof inspection.   Buyers should review the seller disclosures prior to completing their inspection.  This is helpful to be able to focus on previous repairs.
When it comes time to sell your home, you have several options to get your home sold.  You can decide to sell your house your self, but will that get you the most money for your home? Do you really want to become a real estate agent?
You can look for a licensed real estate agent to get the job done.  There are several questions you need to ask of any real estate agent before you hire someone to get the job done.  Here are a few questions to ask before making your decision.
9 Questions to ask a Real Estate Agent before you hire one.
Talk to more than one agent and ask how much they charge to sell a house.  Also, ask what they do to get a house sold?  All Real Estate agents are independent contractors.  The money they will spend to market your home will vary from agent to agent. This means that the cost to market your home is a direct cost to the agent, not their brokerage. Hiring a real estate agent is essential for selling your home quickly.
Will they use a professional photographer? 
Will there be a virtual tour of your home online?  Also, do they use drones for aerial photography? If you live on a preserve lot or on a golf course, it may be beneficial for the photos showcasing your house to lend a birds' eye view or the surrounding area.
Will there be a video or virtual tour of the house?  Buyers starting online searching for homes want to see a home from all angles.  Additionally, if buyers are seeing bad pictures, they will quickly move on to the next home.
insert video

Are they familiar with social media?
Will your house be featured on Blogs? Facebook Ads? What website will showcase your property?  We know 95% (or more) of buyers start online when beginning a home search.  You want your house to be seen by as many people as possible, and just putting it in MLS today is not enough for maximum exposure.
Will your home be on Real Estate Agent tours? 
When there is a real estate agent tour, you will get feedback from multiple agents who are viewing your home and providing written feedback to your agent.  Your agent will then share this feedback with you.  This is helpful to get many agents opinion on the landscape, curb appeal. flooring, paint, etc.
Are you wondering if you should update or replace anything?  The feedback from the tour may answer that question from a group of professionals.  Also, agents on agent tours can tell their buyers about your house.
Will they hold open houses?                               
Buyers are often touring neighborhoods before they start working with an agent.  Open houses can offer the greatest exposure for your house.  Neighbors often have friends and family interested in their neighborhood. An open house, which is marketed correctly can draw many potential buyers to your house.
Are they a local agent?
Will they be able to meet someone at the house who happens to drive by and ay want to see the house on short notice?  Are they familiar with nuances of your area?
Are they familiar with the area? 
Can they tell you about options for schools and other community information so your home is showcased in the best possible light?
Do they have staging services available?                         
Most homes will benefit from professional staging so your home looks decluttered and furniture is placed in a way to attract many buyers.
How well do they negotiate?
An agent offering a low commission may not be the best negotiator.  Ask how many deals a month they negotiate.  Ask whether they have been to any negotiation training or professionally negotiated in a previous job.  Agents need to not only negotiate a purchase contract, complete with the sales price, closing dates, etc. They also need to be able to negotiate any repairs and negotiate any issues with an appraiser.
How will they communicate with you?
When selling a house, sellers need and want constant communication from their agent.  You want to get feedback each time an agent shows your house.  You will want feedback from the real estate agent tour. No news is no news.
As a seller, feedback is very important.  Should you change something in the house? Is there something a buyer didn't like that could easily be changed?
So once you have asked an agent these questions, you are in a position to decide which agent to choose.  Select an agent you are comfortable talking to and asking questions.  This becomes a long-term relationship, perhaps several months long.
You need to be communicated to in the manner you are comfortable and feel comfortable asking questions.  Also, you can expect your house to be on the market for several weeks or months and 30 – 45 days during the contract to actual closing period.
There may be many reasons to sell a home that is already vacant.  Sometimes sellers want to move out completely prior to putting a house on the market. Also, maybe a house has been a rental and once the renters have moved out, they are ready to sell.  Whatever the reason, here are some tips for making your vacant house a house that sells quickly!
Be sure all utilities are on in the property
Granted you don't want to pay for utilities that you are not using, but buyers entering the house need to see a light and bright property.  Often hallways and closets are dark.  You don't want someone to fall while in the house or miss a step.  If the lights are only turned on when someone is viewing the house, you probably will not incur much expense.
Also, in Arizona it gets hot!  You want to be sure the air conditioning is on during the summer. You can set the thermostat at 75 or 80 degrees.  In the winter leave the heat on during the winter.  Since we don't really get that cold, set the thermostat to 60 degrees to minimize costs. You want a buyer to stay in the house to look around, not leave quickly because it is uncomfortable to continue looking around.
Sell Your Vacant House Fast
If you are selling a vacant house, you want to get it sold fast for several reasons.  First, there is always a risk of vandalism.  Be sure all the doors and windows are locked securely.  If you are using a real estate agent, be sure the lock box on the house is a real estate electronic box.  This will register an agent who shows the house.  Only licensed real estate agents can get into the house.  If you put on a standard contractor lock box with a 4 digit code, this can be given to anyone.  There is no tracking on who has used this code for access.
Have lights come on in the evenings. You may need to add a few lamps on timers in bedrooms. Have someone stop by periodically to gather any flyers or newspapers left in the driveway to by the front door.
Clean, Clean, Clean
Be sure to have the home professionally deep cleaned.  This especially important when there is no furniture in the house to distract the buyer. All they can focus on is the space in general, and condition of flooring and walls. In addition, make sure the window sills are clean and dust free.  If the curtains are dusty, consider cleaning them or removing them.  Be sure any pot shelves that are visible from the stairs are clean.  Bathrooms should be shiny clean along with all light fixtures or ceiling fans.
The tub/shower grout should be clean, and if not, replace it.
Also, don't forget to replace the air filters.  Additionally, in the kitchen give careful attention to the sink and faucet area.  If there is a calcium build up, consider a product like CLR  to remove the calcium.
All the drawers cupboards should be wiped out. Also, if you have contact paper in use, remove as well. Be sure all doors and door handles are clean. If you have sliding doors, be sure the door track in clean.  Again, buyers have nothing to focus on except floors, walls and ceilings and dirt is a definite turn off.  Windows should be cleaned inside and out. If you have sun shades on the house as many of us do in Phoenix, take them off the windows while the house is on the market.  While these shades will keep out the heat, they also keep out the light!
Staging an Empty House
It is easy to add warmth and interest to a house with small staging items.  In the kitchen add brightly colored towels, a stand with a recipe book, a few canisters on the countertops.  In the bathroom, add fresh towels and a few decorative items on the vanity.  Consider hanging a few pieces of art on bigger walls.  Add a tall plant to a corner of the living room, bedroom or dining room.  Add a nice welcome mat to the front door and a few colorful rugs in the house.
Maintain Great Curb Appeal
Just because a house is vacant, it doesn't need to look like it from the outside.  You always want to keep your lawn well maintained and bushes trimmed.  The first impression a buyer will have of your house is at the curb.  What do they see walking to the front door?  Does the front door look tired with peeling paint?  Are there mailers piled up at the door?  Has the latest dust storm left the front door looking dusty and dirty?  Summers in Arizona can be very dusty so keep the front door and entry area free of dust and debris.
If the front of your house looks tired and "vacant", buyers will already decide the house is worth less than your listing price. If a buyer is seeing a shabby house they are also seeing dollar signs and adding up the cost to make repairs.
Go through The House And Make Small Repairs
Sellers should walk through the house like a buyer and look for small repairs items that could be a turn off for a buyer. The National Association of Realtors state that buyers typically think a repair will cost three times more than the actual repair.  This means a minor repair you can do for $50 translates into a $150 expense in the buyer's mind. Buyers often don't have an idea of the cost to repaint a room or replace a faucet or ceiling fan.
When buyers are overwhelmed with repair issues, it could make the buyer want to offer less on the house because they think there are many repairs needed.  Also, buyers relocating from out of town do not have a list of resources to make repairs so they may move on to another property in better repair.
Look at all your faucets and be sure the sink faucets are not leaking.  So, check out the showers for any dripping.  Look under the sink and check for any moisture.  Check your doorknobs and be sure they are not loose.
Look at all light switches and electrical plates.  Replace any cracked or broken plates.  These cost pennies to replace but will keep a home inspector from calling these out on an inspection report. Look for any loose or ripped carpet and repair.  Are there any broken draws in the kitchen or bathrooms. Buyers will be opening and closing the doors. Check closet doors.
If you have sliding closet doors, be sure the guide is in place.  Buyer's don't want to see closet doors swinging and home inspectors will point these out to buyers. Take a walk around the house and look for any water leaks on the hose bib. Are all the gates functioning correctly? Is your sprinkler system leaking? Do you see any cracked windows?
Upgrade all Light Bulbs and Turn on Lights
You want your house to show light and bright.  Also, be sure all the light bulbs are working.  Sometimes people unscrew a few bulbs in a room so the room isn't too bright.  Be sure all light bulbs are in the fixtures and working!  Use the highest bulb allowable by that particular light socket.  Additionally, when buyers see a light that doesn't work, they immediately think the fixture is broken, when it is actually a burnt out bulb.  Take the doubt out, replace the bulb!  Be sure the light fixture and ceiling fans are spotlessly cleaned!
Consider a Security System
Consider buying an inexpensive home security system.  There are many phone-based systems on the market today.  Additionally, you may have heard of the RING doorbell.  This shows you who is at your front door and elsewhere in the house.  This is helpful to be able to make sure lights have turned off and doors locked.  This is helpful should you detect activity you weren't expecting.  For sellers out of town, this is helpful to manage your vacant house.
Alert Neighbors the House is Vacant
Be sure to alert your neighbors the house will be vacant.
Ask them to notify you should they see anything unusual.  There are times when a vacant property has been taken over by squatters.  Also, the last thing you want is for your For Sale sign to be removed and someone moving in. Your neighbors can help you avoid this.
Consider Staging with A Professional Stager
A professional stager can provide several levels of property staging. This could include light staging with such items as a few chairs, pillows, plants and wall hangings.  Staggers do not need to stage every single room.  Also, we do find that bathrooms and kitchens are key to staging. Colorful pieces accenting a home warms up the home for the buyer.
Consider Virtual Staging
Today we see much more virtual staging.  This is adding furniture and furnishings to a picture of an empty room.  This helps buyers gage the size of a room. It also helps buyers picture themselves living in our house.  Many services will provide virtual staging for a minimal cost.  This virtual stating will offer color and interest to rooms.  Buyers can see a dining room as a dining room.  They can see bedrooms as bedrooms.  The key for buyers is to picture themselves living in your house.  Not all buyers have the ability to imagine how your space could be used for their living.
It is possible to sell a vacant house with the right preparation.  If you are out of town or across town, your real estate agent will help check on the property and alert you to any problems.  The key will be to ensure repairs are completed ahead of time.  When real estate agents are showing vacant properties, the benefit is scheduling these properties to show is very easy.  We aren't waiting for pets to be removed from the house or small children to finish naps before showing.  With the right marketing and pricing, the goal will be to sell your house fast!
?

Should I Sell My House Quickly For Cash?
The Ibuyers typically do not ask sellers to make repairs, however, they will still conduct a home inspection.  This may be with a state licensed home inspector (In Arizona home inspectors are licensed by the state).  Or, they could send out a general contractor to evaluate the house condition.